Custom Fastener Solutions

The transition to All Integrated Solutions as a Vendor Managed Inventory provider is always seamless. Multiple on-site walk-throughs at your facility, along with our decades of experience, help us determine which VMI process will most effectively improve productivity and efficiency. AIS has the ability to customize and implement any of the following VMI solutions:
Kanban
Gravity Flow
Min-Max
Traditional Bin Fills
Skid-Load Delivery
With our industry-leading 99.98% VMI accuracy rates, you can trust that AIS has the right product for your application at the right time.
With the correct VMI program in place, customers will reduce inventory by 30-60%, carrying only the level of inventory necessary to efficiently run assembly lines or maintenance departments. In addition, you'll  no longer need to purchase excessive minimum quantities of various parts or process multiple purchase orders.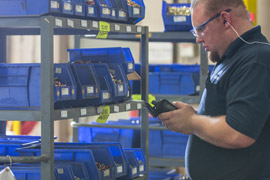 State of the Art Order Replenishment Technology
By using our intelligent reorder technology and electronic order processing, you'll consolidate vendor invoicing, keep lines up, and simplify ordering & invoicing. At your location, a dedicated Floor Stocking Coordinator will replenish materials using your specified replenishment model.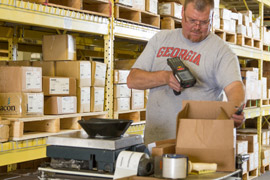 Advanced Warehouse Management
AIS can easily determine when product has been received, what manufacturer produced the materials, where the product is located in our warehouse, who fulfilled an order, and when an order is packed and ready for delivery. Our team quickly adapts to customer needs by changing or updating orders on the fly–and boasts 99.98% VMI accuracy rates.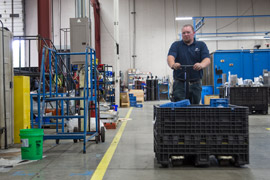 Reliable, On-Time Delivery
With our innovative order replenishment technology, AIS has the ability to quickly and accurately deliver material. Because a "just in time" replenishment plan will be designed with the needs of your production schedule in mind, your plant will always have the appropriate amount of product on hand.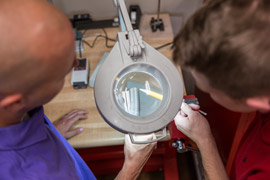 Engineering & Productivity Insight
When a VMI program is operating flawlessly at your facility, AIS will continue to work with you. We'll carry out an annual cost reduction review, and continually improve productivity based on metrics and industry standards. In addition, your VMI team includes a Regional Sales Engineer, who will proactively develop custom solutions.